Want To Do Something A Little Different For Your Next Special Event?
Do you want to have fun while raising money for your organization?
How about having all the help you need at your fingertips during your fundraising event or corporate party?
Let Pointe D'vine Help You Host The Perfect Event. 
Pointe D'Vine is the ideal venue to hold corporate gatherings, fundraisers, retirement and birthday celebrations, as well as other special events. Our creativity and hospitality allow us to connect with your cause, help maximize your budget and make an impact on the guests. Ho-hum parties are not in our vocabulary. 
It can be a quiet intimate corporate celebration with a small group of special supporters or a large event venue for anything you can dream up – dueling pianos, a speaker with a silent auction, a comedian with a dinner show …the sky's the limit and so are the funds you can raise when you let the staff at Pointe D'Vine help put together your big night. Your guests will be thrilled to participate in such a special event. 
Pointe D'Vine also hosts bridal and baby showers as well as birthday and anniversary celebrations. We have the ability to perfectly transform into an ideal space for a rustic celebration or for an elegant and more formal affair.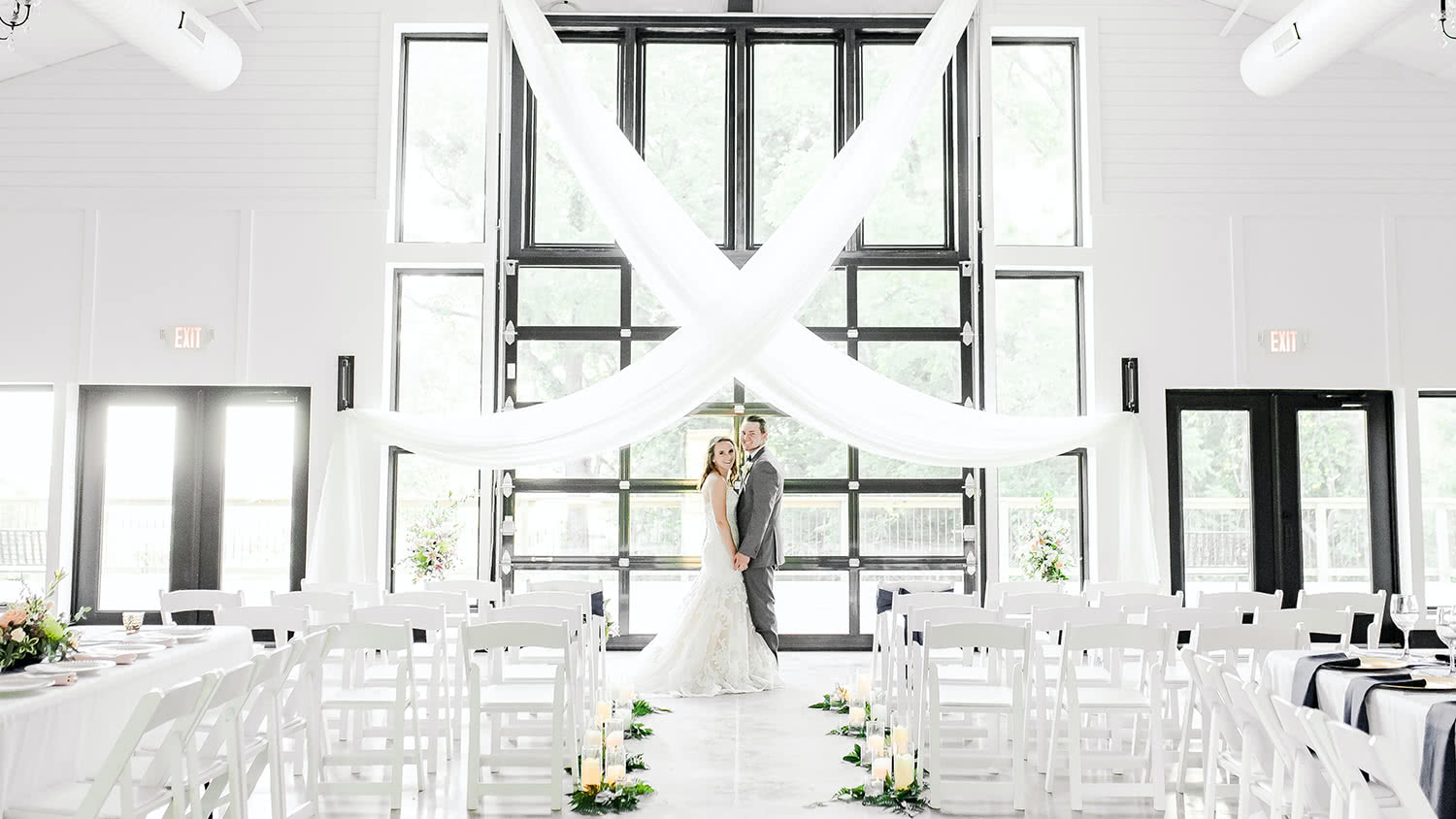 Aleesha Roach Photography
Thank you for your interest in having your wedding and/or reception at Pointe D'Vine Vineyard and Venue. Take a look at our various available venues and if something catches your eye, schedule a private tour to see it in person and to talk more about how Pointe D'Vine can materialize your wedding vision.
Pointe D'Vine is the perfect spot for your professional gathering. We can host board meetings, appreciation events, and corporate parties of various sizes. No event is alike so customized packages are available. 
We welcome the following corporate events: corporate picnics, retirement dinners and retirement parties, holiday parties, fundraisers, team-building activities, guest speakers and seminars, and on-site luncheons/dinners. Schedule a consultation call to create an event like no other. 
Seasonal dinner events are hosted inside our Hilltop Reception Room with a featured local caterer. What's more special than a delicious dinner, delicious drinks, great company, and a stunning view? Keep an eye on the entertainment page for upcoming dinner events. Reservations required. 
Pointe D'Vine is the ideal spot to host your next private party. Whether you're celebrating a shower, birthday, anniversary, graduation, family reunion, or a special intimate gathering, Pointe D'Vine offers a beautiful wine country location for you! Our picturesque views and vineyard are the perfect backdrops for pictures and making memories. We can accommodate small groups of 20 or up to 300 with amazing success.
Quincy Angel of Hope
A non-profit organization for raising awareness of premature birth, infant and child loss, and funds for local hospital NICU development and research.
A Walk to Remember 
Each October, A Walk To Remember is a "celebration of life" walkathon in honor of families who lost an infant during pregnancy or soon after. It's a dedication to our local grieving families, a chance to come together to remember the precious loss. Share love.
2023 Barn Blender Expo
Support local small businesses and handmade crafts from the surrounding tri-state area. This year, the annual Fall Barn Blender Expo will be held Friday, September 15th (5-8 PM) and 16th (11-4 PM) with live music by Stonehill on Saturday afternoon. Vendors may apply now. Shop, dine, & wine!
This special event originated as a tribute to the memory of the late Brener Jett. Brener, the firstborn son of Somer and Brenton Hannel, born prematurely and shared months in the NICU, sadly passed away in April 2015. The Brener Jett Memorial Fund is a fundraiser to benefit children and students with scholarships in rural Adams County.
Read more about the Barn Blender Expo.
If you have a charitable event you need help with, contact us to discuss all the details and let Pointe D'Vine make it memorable and profitable. 
We greatly appreciate your participation and overall support!
Nature lovers and photographers, do you need a scenic location with a plan B indoor option? We offer a little bit for everyone's interest with lots of green, open areas, shade trees, and flowers, not to mention grape vines in the vineyard. 
Every location can look very different based on the time of year and the fall season is the most requested! If you already know you want a family session, please have your photographer reach out to us for a lifestyle, family mini-session.
We have large, comfortable restrooms, so if you want to change wardrobes, that's not a problem. They also have baby changing stations if needed.
We kindly charge hourly for photography sessions. 
We want to be respectful to other prospective requests and block out time exclusively for your group and the best overall client experience.
Monday-Thursday: $20 per hour for up to 5 hours 
Saturday: Not available 
Friday & Sunday: Availability determined by event schedule. 
100% of the price due at scheduling to secure a timeframe
Prices subject to change without notice