Pointe D'Vine Wedding Venue in Quincy, IL
Picture this: You and your beloved exchanging vows under the warm glow of twinkling lights, surrounded by the rustic allure of a lovingly restored barn or chic modern space. Fresh flowers mingle with the gentle breeze, as nature becomes the ultimate backdrop for your love story. At Pointe D'Vine, we specialize in crafting exquisite weddings that blend the grandeur of luxury with the authentic charm of a rustic or modern setting.
If you're searching for the perfect venue for your special day, you've come to the right place! We have something for everyone. At Pointe D'Vine Vineyard and Venue, we're all about making your special event all your own. We are centrally located in the tri-state area, only fifteen minutes away from local hotels, travel 12 miles to downtown Quincy, Illinois, and about 7 miles to Hannibal, Missouri.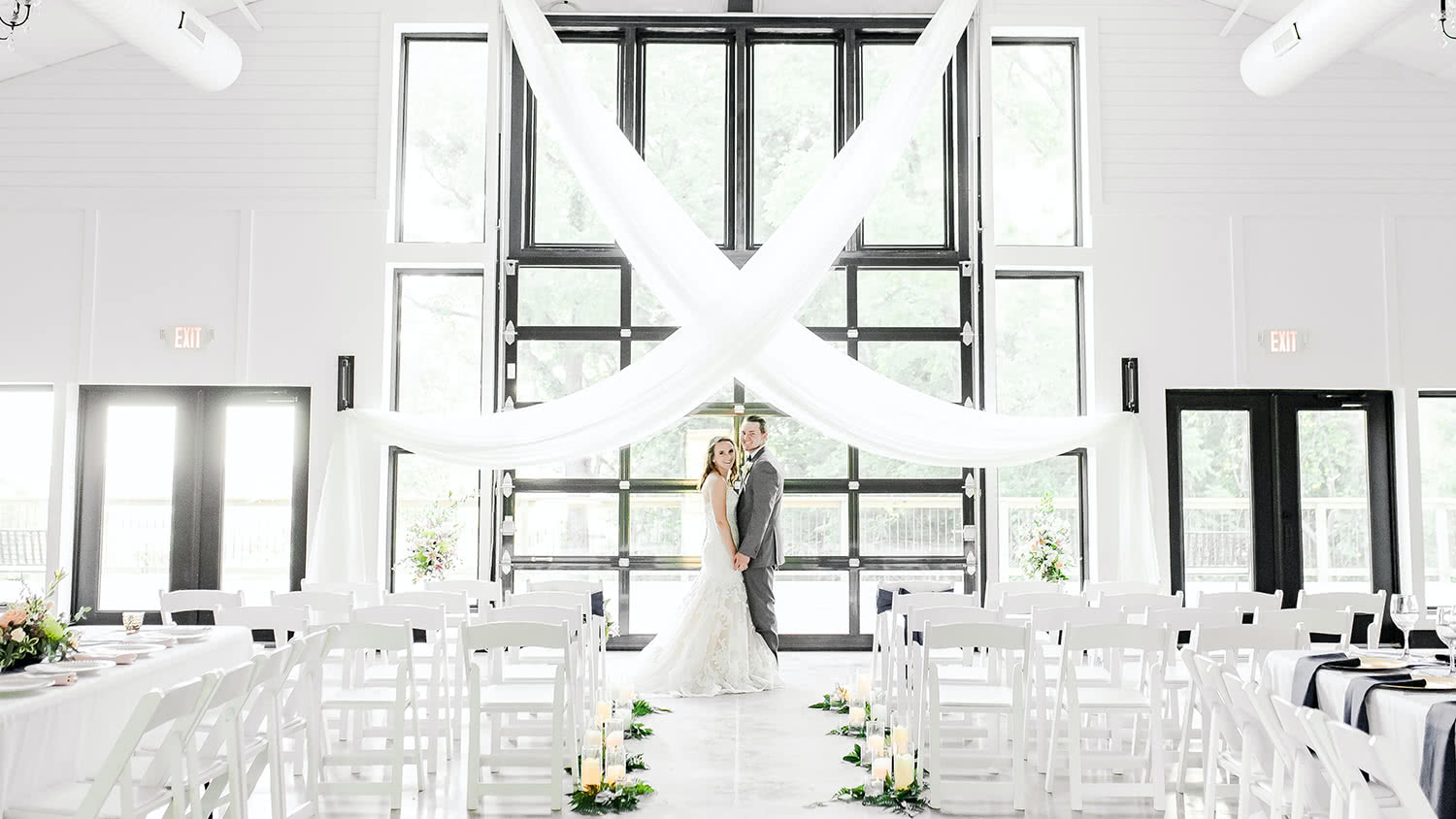 Aleesha Roach Photography
The Hilltop Reception Room
The Hilltop's white walls, concrete floors, and open ceiling create a chic, charming atmosphere for your event. The massive windows create the best lighting for photography. The venue is complete with premier sconce lighting and chandeliers in the main room, all on dimmers to create that perfect ambiance. You finish the evening under the stars on our deck dancing the night away!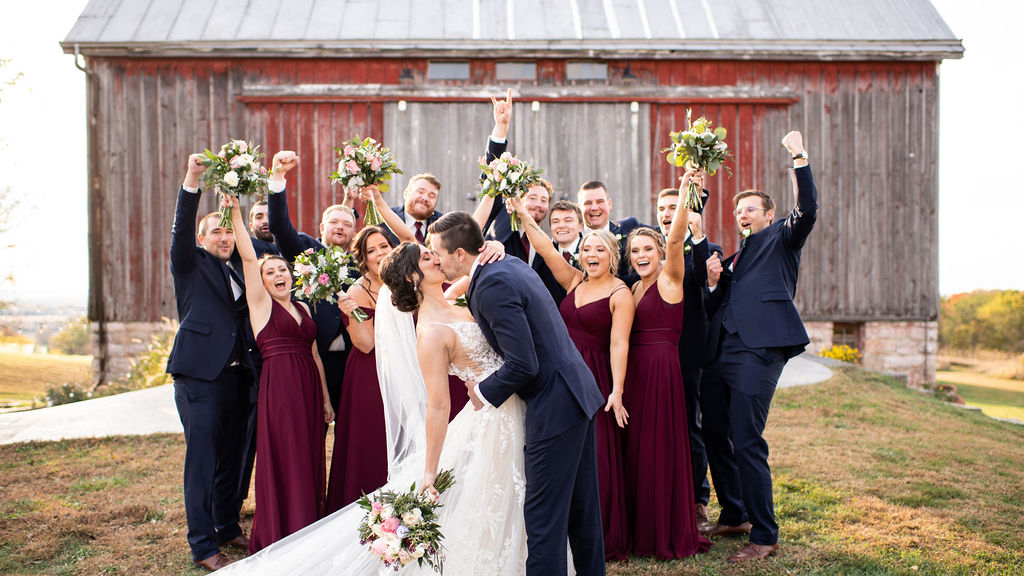 The Ancestral Barn, consisting of two separate, but cohesive spaces, provides several unique backdrops and a dynamic story for your event. The lower level, known as the Milking Parlor, is perfect for hosting cocktail hours with its high-top bar for beverages and countertop bar for appetizers. Your reception will occur on the upper levels with large barn doors opening to a beautiful sunset and countryside galore!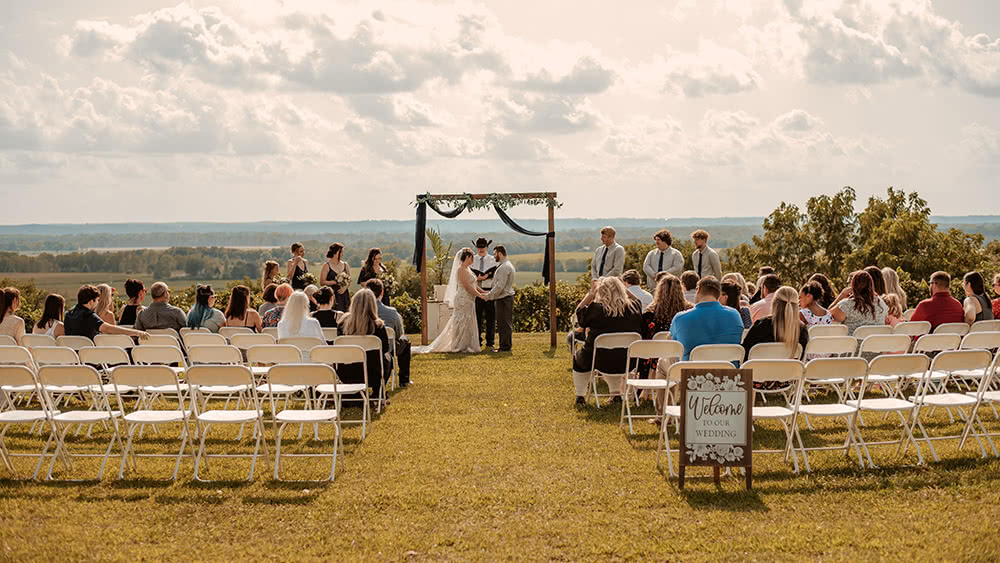 The Vineyard is an addition to the Ancestral Barn where you can get married against the background of our grape vines with the Mississippi river bottom expanding behind you. Then, celebrate in comfort and style at the Ancestral Barn for a charmingly rustic reception with full bathroom facilities and seating for up to 300 people. This is the perfect option for someone wanting an outdoor ceremony. 
Aleesha Roach Photography
Get Help Planning Your Dream Wedding
At Pointe D'Vine, all wedding ceremony and reception rentals include a wedding coordinating team for the venue to make planning your event fun, innovative, and effortless! Let us handle the details, so you can focus on what's most important – your family, friends, and commitment to one another. Below is a list of what's included in preparation for and on your special day.
Pre-Wedding Planning
Wedding planning timeline preparation

Create a wedding checklist for the venue 

Designing a floor plan and layout of the ceremony and reception

Vendor recommendations

Facilitating the ceremony rehearsal 
Day of Wedding
Directing the ceremony processional

Coordinating and assisting with the setup of the ceremony and reception 

Setup of wedding accessories such as welcome/guest book, favors, etc. 

Coordinating pinning of boutonnieres and ensuring the VIPs receive flowers

Acting as a point of contact for all vendors

Assisting the family, wedding party, and guests as needed

Dealing with any unforeseen hiccups… Allowing you to enjoy every moment of your wedding day without any worry about background details!